WASD 2024 Runners Guide
---
WASD 2024 will be held on-site in the University of Warwick, in the SU Atrium. We will also be streaming it live to Twitch. This year we are planning to not accept online runs.
If you have any queries about any aspect of the event, please don't hesitate to ask on Discord in #ask-the-organizers, #runners-chat, or DM an @Organizer if unsure. No question is too silly, we all only want the event to go as smoothly as possible. For changes in tech requirements or run estimates, edit your Oengus submission in the first instance, but also contact an organizer if it is close to the event weekend.
Timeline
Submissions Open

Submissions Close

Runs Accepted

Schedule Released

WASD!
Our Setup
We will be in Warwick Students' Union Atrium, which is a great venue for us.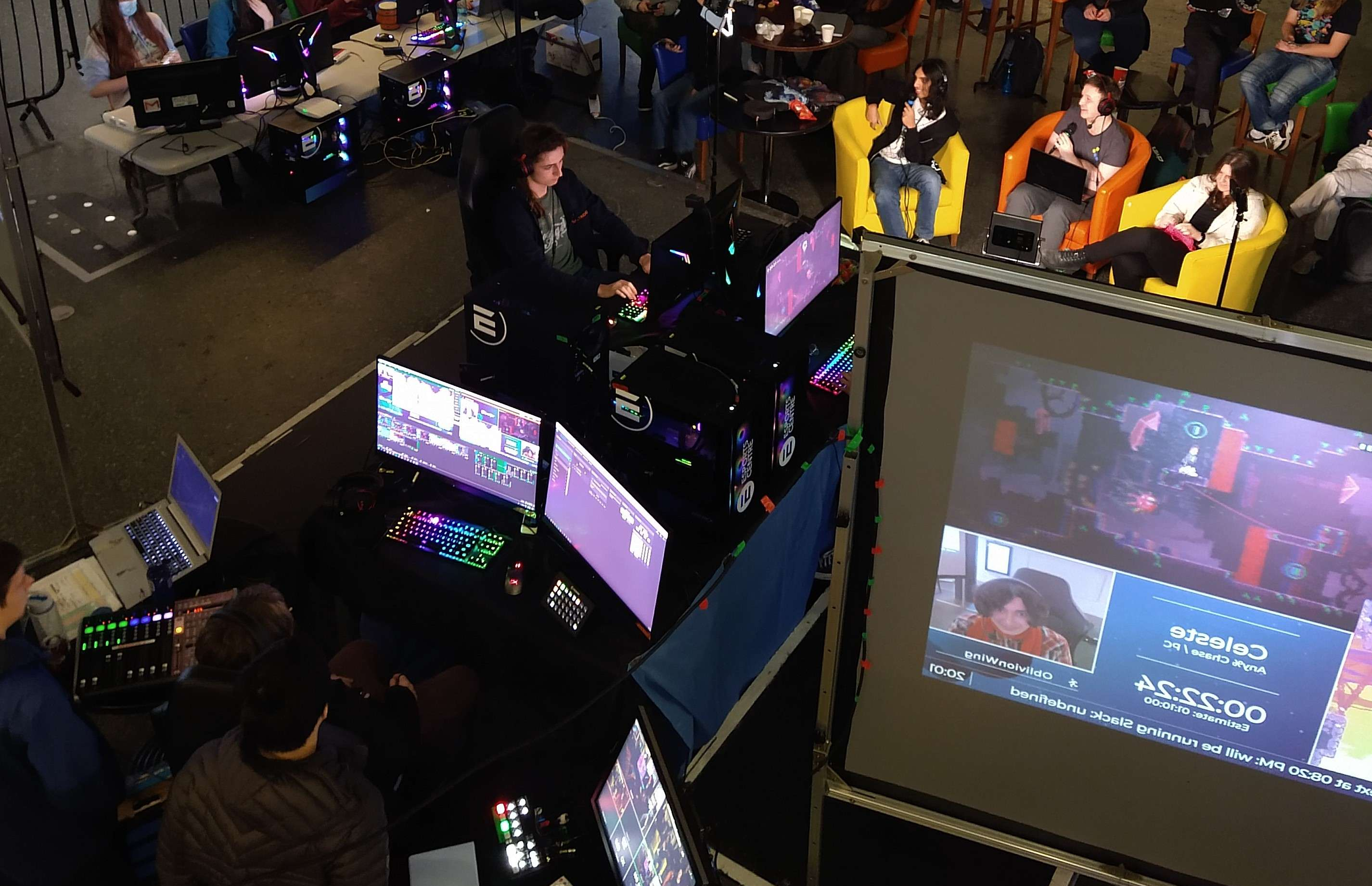 We will be set up on the Atrium's stage, with two projector screens to either side. The central table with have tech on the far end, and two runner computers on the left and right. Most runs will alternate sides to give us more setup time, or both can be used for a race! Commentators will be in-front of the audience, and we'll have a practice area to the side (a couple of PCs & some monitors for consoles).
The Computers
The computers are loaned from Warwick Esports Centre and are top-end; they have 5900X processors and RTX 3080 graphics cards. Check this page for the full stats of these beasts! We provide peripherals & controllers, though you are welcome to bring your own. If you do bring your own equipment, please let us know beforehand so we know what to expect with the switch-over.
Consoles
Warwick Computing Society have a variety of consoles they are able to provide:
XBox One & 360
Nintendo: Switch, Wii U, Wii, and GameCube
PS4
If you require any of these for your run, ensure to mention this them beforehand.
If you are bringing your own console, laptop, or PC then we will be using an HDMI capture card to record your device's output. For modern devices, this is straight forward, but older devices may need an adapter.
Software
We can pre-install many games, however if there are any particular versions, DLCs, or settings you need beforehand, let us know. We always recommend you bring a USB with everything installed as a backup.
We will be running Livesplit integration with our stream, so if you have splits of your run, send them to us or bring them with you if you want them on stream.
On The Day
Please come along at least half an hour before your scheduled slot and come talk to the tech crew. We will ensure your game works, switch anything you need and balance your audio while the previous run is still going.
Commentators
During your run, we will have some commentators to introduce your run, talk to you about your run, and read donations. We will provide some ourselves, but we'd love you to provide a commentator for your run, as it's always better to have someone who knows the game and knows you! No worries if you can't, we'll do our best to find/match our commentators to games.
We can have in-person or online commentators, though in-person is a better experience for everyone. We have equipment for up to three commentators, although try to let us know as early as possible if you find someone.
Donation Incentives
We've had some great donation incentives in the past, and there's nothing like messing with the runner to separate people from their cash! (it's for a good cause after all)
Donation incentives can be almost anything:
an upgrade to the run: "do x bonus level", "enable hard mode", or "collect a bonus collectible"
A bid war over a basic choice: "which character to play with?", "clothing choice"
Trigger an event: "will do x for every donation" (towards that incentive)
Something silly (e.g. install a funny cosmetic mod or pet a dog in the game)
Or something completely wild -- my favourite from last year was donations sending players in our Celeste Race fetching strawberries in game while eating a strawberry in real life!
Don't worry if you can't think of anything, we still have plenty of time, and we don't need one for every run.